Smartwatch charging wall for production tracking
How we developed a charging device for a very demanding sector: the pharmaceutical industry.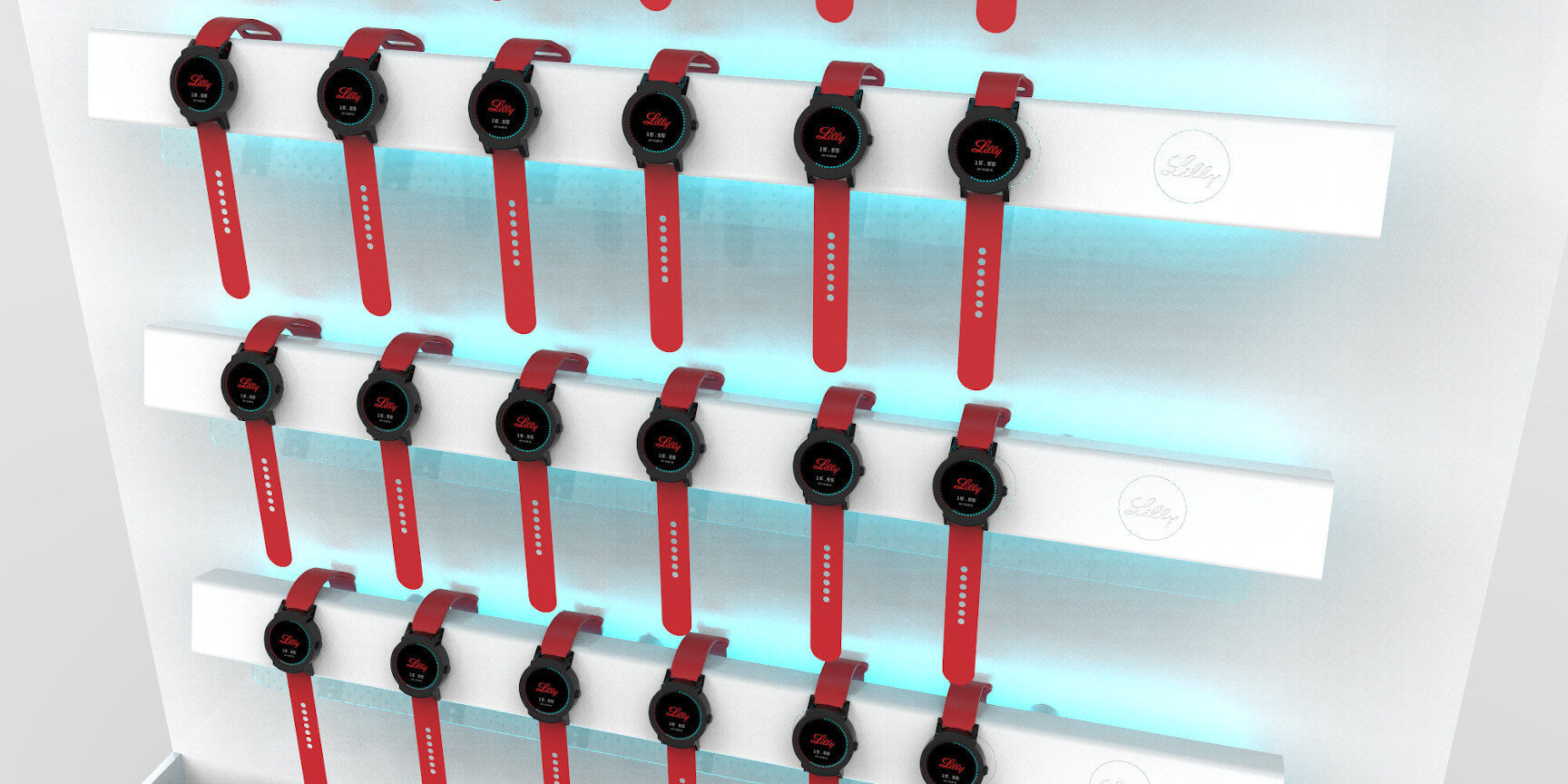 Intro
Protective suit and fantasy: here's how we designed and built a product in a somewhat particular environment.
There were, as you'll see, quite a few critical issues.
First of all, we had to respond to the stringent safety requirements of the environment that the product was intended for: a major pharmaceutical company.
Another non-negligible difficulty was actually working in that environment. Our designers had to wear protective suits, masks, and caps, and had to undergo strict hygiene checks each time.
Finally, the technological challenge: in addition to the usual IT and electronic activities, this time we also gauged ourselves in the field of industrial design.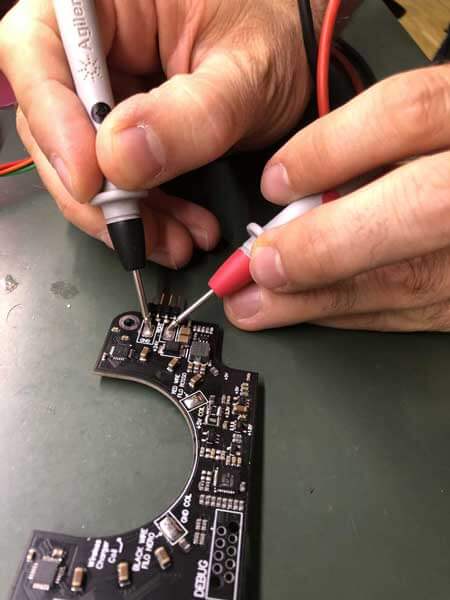 The client

Eli Lilly has been producing essential pharmaceuticals such as insulin for 140 years. Thanks to more than 8,000 employees, distributed in 7 production plants, it supplies pharmaceuticals to almost 120 countries.
Quality and traceability
Depending on the type of production, different safety classes are active in the various departments of the plant with specific obligations for those who work there, starting from simple gloves up to the double protective suit and air filtration systems.
In order to ensure quality and safety, activity tracking is of considerable importance: for each medication, it's essential to be able to track each stage of production and the operator who handled it. In the past, this tracking was manual, and the single person had to sign a special form when he got to work at his station.
To manage traceability in an automated way, Eli Lilly recently decided to use Samsung smartwatches that act as NFC tags and allow the identification of all production personnel.
The problem
Smartwatches need to be charged. Unfortunately in a pharmaceutical environment, where everything must always be clean and sterilizable, it's unthinkable to use normal chargers with messy wires and connectors that are continuously handled. It was therefore necessary to find a solution that was compatible with the production processes and with the client's hygiene and safety standards.
The idea
We thought of creating a structure, a charging wall, which had the function of storing 42 devices in an orderly manner and charging them wirelessly.
What Develer did
The client asked Develer to supply them with the finished product, so we took care of all the phases of its realization:
Charging system design
Wall design
Production
The charger
The charging system had to be wireless so that all the user needed to do would be to place the smartwatch in its base to activate the charger.
Charging for 6 rows of 7 (42 watches)
Custom-developed firmware
Charge status messaging system
In the event of a power supply failure, the product can still operate at 50% capacity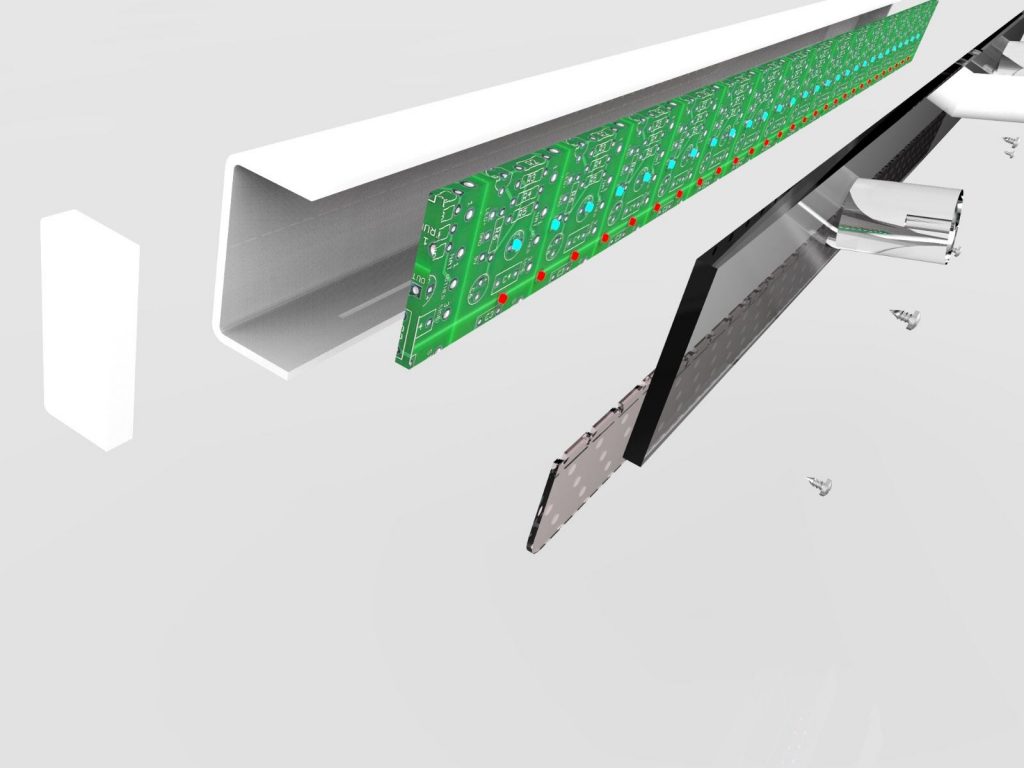 The design
The industrial design part was particularly important. It was necessary to actually create a product compliant with the pharmaceutical environment that still had a reassuring aspect which conveyed an image of order and cleanliness.
Free of holes and any kind of roughness
Resistant to solvents and disinfectants
Ergonomic
Aesthetically-pleasing and reassuring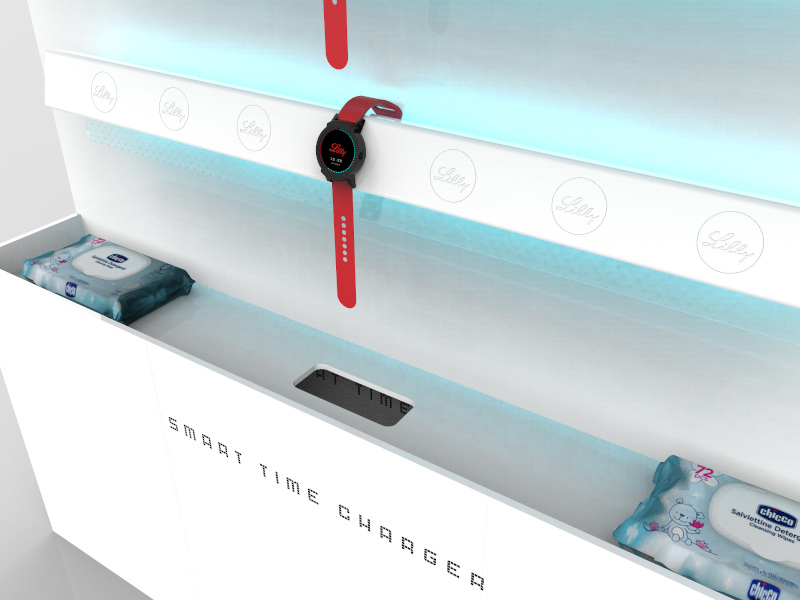 The production
A phase of production that required particular care was testing. Delivering a product in an environment with very limited access – only possible in the few moments of pause in the production – resulted in the need to test hardware and software with particular rigor.
We decided to do this by putting the wall into operation in our labs for 6 months where we tested the hardware and debugged the software with great attention to device reliability and maintainability.
Services involved
Conclusion
The charging walls are operational in several Eli Lilly factories in Europe already, and production is still ongoing. All requirements have been met and we've delivered a perfectly efficient product that requires very little maintenance, which is required for environments with very high safety levels.
Staff