Develer at Simac 2020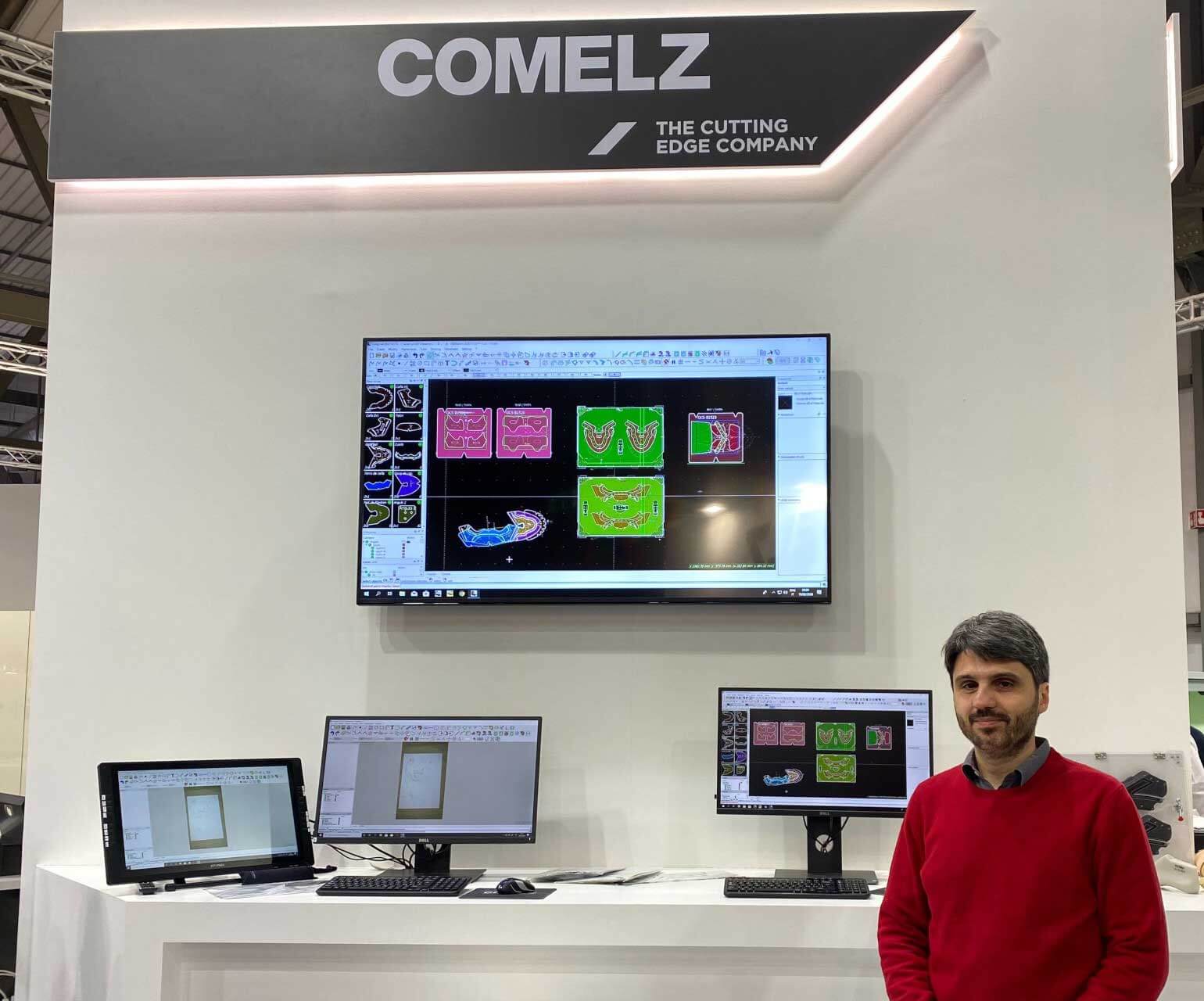 This year we also attended Simac Tanning Tech, an interesting experience from many points of view. In this interview, our Project Managers Ilaria Salvalaggio and Lorenzo Mancini tell us all about it.
What is Simac Tanning Tech?
Ilaria: Simac is the main industrial trade fair, worldwide, in the leather and footwear sectors, which is held once a year in Milan.
Lorenzo: The three-day trade fair is attended by suppliers of all the big names in fashion, from manufacturers of sewing machines to those for skinning, which cover the entire production chain with their machinery.
Why does Develer go to Simac and why is it important to us?
I: Develer goes to Simac to present the innovations developed during the year to a very large audience of customers and does so with the entire Comelz group, of which it is part together with Camoga. In particular, Comelz produces machines for cutting hides and for preparing uppers. Camoga produces machines that split leather, that is, those that evenly thin the hide. Develer is responsible for developing the software and interfaces for the use of all these machines.
L: We oversee most of the software development of Comelz products, in collaboration with Comelz itself, and the trade fair is the opportunity to introduce ourselves to distributors. Our work on the project does not end, as you might think, with publication of the software, but there is also a very important part of contacts with distributors or even with end customers: it is at events such as these that you really understand how to offer the product for that production area.
I: There is the most varied and widest possibility to listen to the opinions of those in the sector: we, by profession, do not make shoes or bags, but we create the software that makes them. So it is not the only one, but it is certainly the greatest opportunity to get closer to the people who actually use our software in these areas, to listen to what they have to say and to ascertain their perception of our software, of the market and to understand their needs. And, then returning to Develer, deciding which ideas to follow up on.
What did we do at Simac? 
I: It has been a year full of results and we brought many innovations to the trade fair.
For more than 10 years we have been developing a 2D CAD for footwear (Caligola); based on everything that we have learned in this sector, we decided to also dedicate a number of tools to leather goods and this year we presented Cleopatra , a new exclusive 2D CAD for bags, belts and wallets.
L: In addition there was the formalisation of Caligola Style, a software presented as a prototype in 2019 and now offered in its final form.
Here too, we started from Caligola's experience and, after market research to understand the needs of customers, we came up with a product that would meet their needs, thus creating a rapid prototyping system of shoes with real-time generation of three-dimensional models. 
It is a solution that is used to generate three-dimensional prototypes of shoes on a web platform through a browser and, from a technological point of view, we have done a great deal of frontier work on the C++ and browser integration with WebAssembly. The whole system runs on the WebGL platform.
Another big piece of news, this time on the integration side, is Comelz Aurelia. It is a software connector that, by allowing integration with all the main ERP (Enterprise Resource Planning) and PLM (Product Lifecycle Management) software of the company that is going to be inserted, is used to obtain the maximum value from the machines and from the Comelz software.
I: Finally, the CJ1 commuter machine (CJ3 in its largest version) was also presented, completely new and never before launched on the market. Here too we dealt with the software and, in particular, we worked extensively on improving the algorithm of displacement of the cutting head and of the movement, which has made it faster than before and optimises the movements. For the uninitiated, the cutting head is a key part of the machinery and its efficiency is directly proportional to the units produced.
What's new in this sector?
I: The sector is undoubtedly undergoing a revolution and we are moving towards complete computerisation; now the true value of the machine is given not only by the mechanical components but mainly by the software that runs on it.
This entire process is becoming faster also thanks to the INDUSTRY 4.0 plan, state incentives to bring companies that generally use more advanced machinery towards a situation of increasingly complete computerisation.
L: We have gradually resolved the problems of the various companies that have asked us for improvements in Industry 4.0, finding a specific solution each time, but with Aurelia we have created a standard connector that successfully manages computerisation in the factory for all the machines of the Comelz world.
What are the services offered by Develer?
I: Develer designs and manufactures hardware and software solutions in many innovative industrial areas. For the leather and footwear sector, we are working on firmware and algorithms for cutting machines. We also provide a whole series of integration and production management services to reduce time and cost errors, making use of the facilities provided by the National Industry 4.0 Plan.
Would you like to know more?